International and national exhibitions in Germany posted exceptionally good overall results in 2016: the year's 186 fairs registered around 191,000 exhibitors who booked more than 7.5 million square metres of stand space. These figures are the product of preliminary calculations from AUMA – the Association of the German Trade Fair Industry. The highest previous number of exhibitors was nearly 181,000 registered in 2012, and the greatest previous total stand space was 7.1 million square metres, also in 2012. The total number of visitors in 2016 – around 10.5 million – was the only number previously exceeded, by the 2001 record of 10.7 million.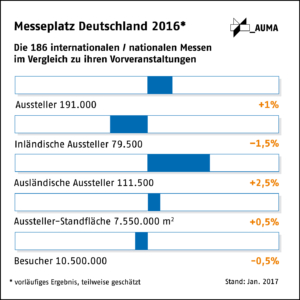 These results are due in part to the very strong programme in 2016 which had an unusually high convergence of major trade fairs that are held at three or four-year intervals. In addition, the individual fairs themselves have shown a nearly regular rate of growth – despite strong competition from other marketing instruments and despite often uncertain international economic conditions.
This growth continued in 2016: the 186 exhibitions showed an average of around 1% more exhibitors and 0.5% more stand space compared to the respective previous events, with only the total visitor numbers declining slightly by around 0.5%. Foreign companies in particular are making greater use of German exhibitions as presentation platforms – especially in light of the fairs' appeal for visitors from a broad range of countries extending well beyond Europe.
German companies are also taking greater advantage of trade fairs: they are now devoting 45% of their B2B communication budgets to trade fair appearances – which means a 3-percent rise over a decade ago. This figure is from a survey of 500 German companies that use trade fairs, commissioned by AUMA and carried out by TNS Emnid in November 2016.
For the 159 exhibitions planned in 2017, AUMA once again expects stable to slightly higher levels of exhibitors and visitors.
An AUMA survey of exhibition organisers in December 2016 also suggests an optimistic trend in the sector. It showed that a substantial majority of German exhibition companies are planning higher investments in 2017, and that a majority of companies also plan to increase their number of employees.